SolidCivil, Quebec edition – MTQ Standards for Quebec-based road projects
The SolidCivil, Quebec edition product is a complete toolset for Civil 3D, adapted to Quebec's road design standards. These tools are:
Designed by professionals who understand the need to address the specific design requirements for the Quebec Civil infrastructure industry. In this kit, users will have access to key components for Civil 3D that will help drive engineering projects that meet MTQ specifications and standards.
Streamline the work of drafters, civil technicians, and engineers by incorporating Civil 3D's best practices and most useful tools, minimizing manual and repetitive tasks.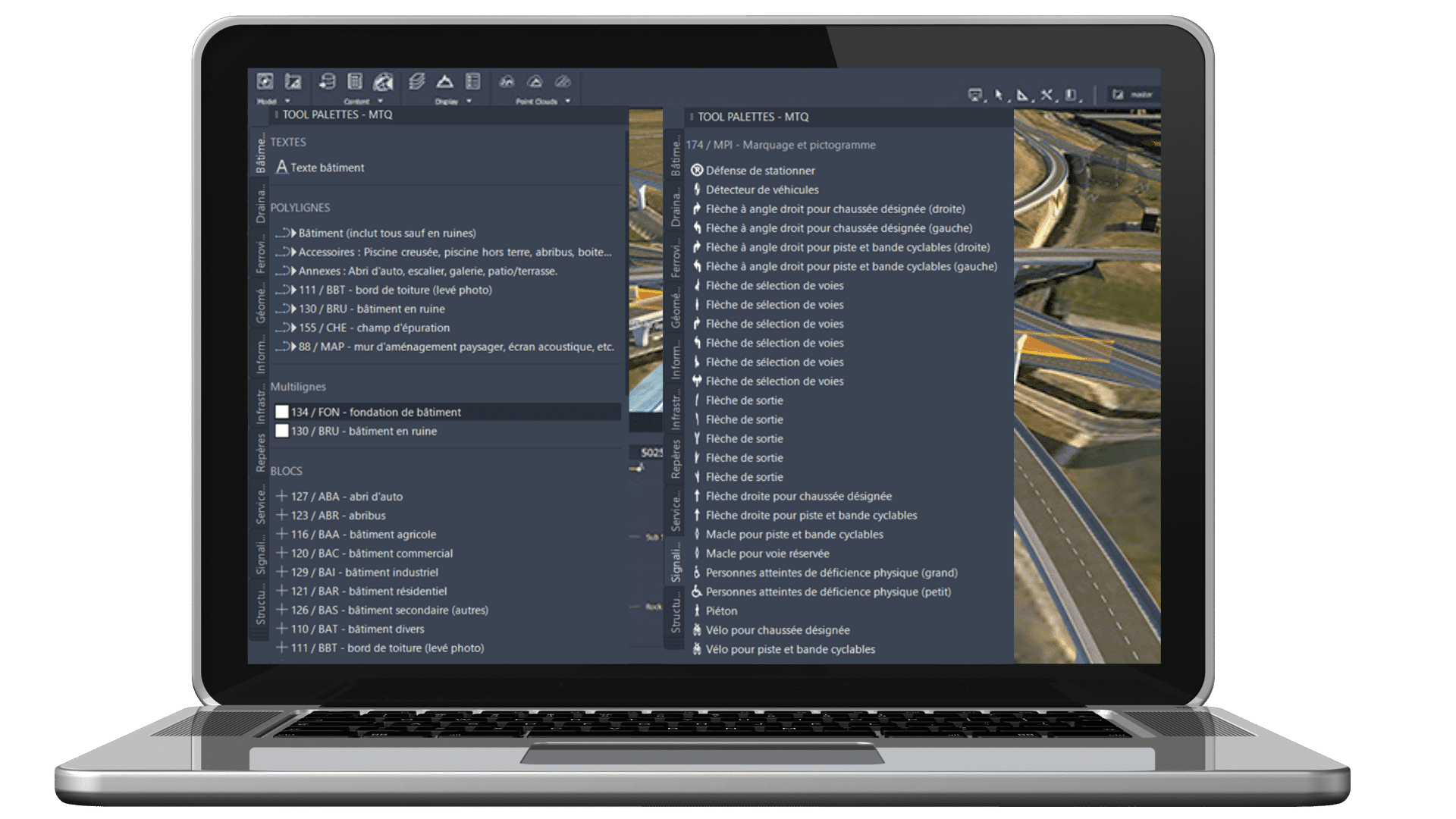 The Set includes:
Gravity Pipe Catalog

With this edition, you will have access to a library of standard pipe sizes and standard structure types and sizes based on Quebec manufacturers (L'Écuyer and Lafarge).
MTQ Standards

As you may or may not know, Autodesk's Civil 3D out of the box only comes with the American Association of State Highway and Transportation Officials (AASHTO) transportation design standards, which is unhelpful for designers located in Canada.
With our kit, users now have access to the Ministry of Transportation of Quebec (MTQ) Standards which are applicable across the province of Quebec and have the specific design criteria for advanced transportation designs, making sure that any design you create aligns with Quebec guidelines.
Some of the highlights of the MTQ standards include superelevation formulas, and transition lengths that would otherwise be calculated manually.
MTQ Lane and Shoulder Subassemblies

The MTQ has specific requirements for road lane and shoulder design that cannot be satisfied with the native Civil 3D subassemblies. There are subassemblies included in this kit that adhere to the MTQ road lane and shoulder requirements.
Quebec General Template

Are you in need of a Civil 3D template already created for the use in MTQ projects? Our kit offers a standard template that incorporates MTQ's land survey standards, through a complete Description key set (for both MTQ's alphabetic and numeric codes), a Figure database, MTQ Road Design Standards, and defines the typical objects and labels styles based on MTQ's requirement for existing conditions, design, and as-built plans.
Start saving a large amount of time and effort in template creation and maintenance, with SolidCivil today!
Sheet Set Template for Plan & Profile Sheet Creation

This Sheet Set Template is a .dst file that is dynamically linked to custom title blocks for efficient plan and profile sheet generation.
Through the Sheet set Manager, design/drafters will now automatically fill title blocks for all their plan layouts and apply changes to all of them simultaneously during an ongoing project, saving hours in normally manual and repetitive tasks.
AutoCAD Tool Palettes

Use tool palettes for clear and accessible design elements right at your fingertips.
These custom tool palettes centralize most categories of AutoCAD objects used by the MTQ (texts, blocks, hatches, polylines, and multi-lines) with clear and comprehensible descriptions, classified in both themes and object types, and that automatically place the created objects on the right layer.
If you are interested in learning more about our SolidCivil, Quebec Edition – Civil 3D template for Quebec's Standards, contact us today!