SolidCivil, Quebec edition – Civil 3D template for Quebec's standards
The SolidCivil, Quebec edition product is a complete toolset for Civil 3D, adapted to Quebec's road design standards. These tools will:
Save a large amount of time and effort in template creation and maintenance, by being fully functional and updated yearly to fit both the latest software version of Civil 3D and the latest standards from Quebec's Ministry of Transport (MTQ).
Streamline the work of drafters, civil technicians, and engineers by incorporating Civil 3D's best practices and most useful tools, minimizing manual and repetitive tasks.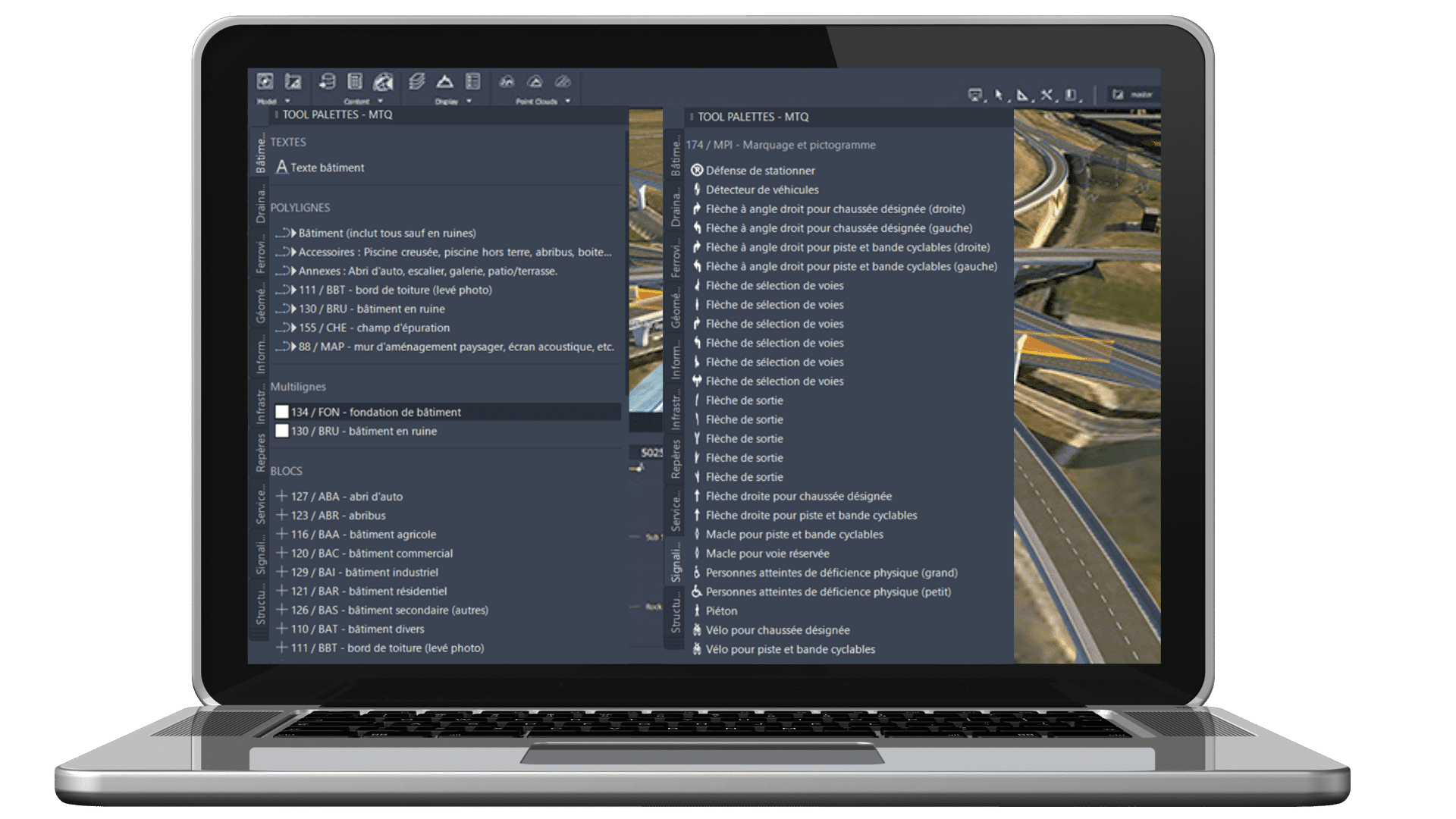 The Set includes:
A DWT template:

Adapted to AutoCAD standards from MTQ,
Integrating MTQ's land survey standards, through a complete Description key set (points creation and symbology based on point descriptions, in both MTQ's alphabetic and numeric codes) and a Figure database (automatic 3D line drawing).
Including Civil 3D object styles based on MTQ's requirement for existing conditions, design, and as-built plans.

Sheet set templates and title blocks dynamically linked together to accelerate the drafting phase, compatible with Civil 3D's automatic plan creation tools. Through the Sheet set Manager, the user will now automatically fill title blocks for all his plan layouts and apply changes to all of them simultaneously during an ongoing project, saving hours in normally manual and repetitive tasks.
A pipe network catalogue that includes models from Quebec's main providers in pipes and concrete structures (L'Écuyer et Lafarge).
A superelevation table using MTQ's formulas that can automatically calculate and applies superelevations and transition lengths to Civil 3D's corridors, saving hours in manual operations.
Two custom subassemblies fitting MTQ's road lane and road shoulder requirements, plus two specialized subassemblies for proper slope display in corridors (properly displays the bottom of the slope and top of the slope, not managed by Civil 3D normally).
A specialized set of AutoCAD Tool Palettes, compatible with AutoCAD LT, AutoCAD, and Civil 3D setups, based on MTQ's CAD standards. These custom tool palettes centralize every category of AutoCAD objects used by the MTQ (texts, blocks, hatches, polylines, and multi-lines) with clear and comprehensible descriptions, classified in both themes and object types, and that automatically place the created objects on the right layer.
If you are interested in learning more about our SolidCivil, Quebec Edition – Civil 3D template for Quebec's Standards, contact us today!