Accruent: Data Management Solutions
Accruent (formerly BlueCielo) provides the leading software solution to discover, monitor and protect technical asset information throughout the asset lifecycle.
About Accruent
Accruent Engineering Content Management (ECM) and Asset Lifecycle Information Management (ALIM) solutions provide a single point of truth for asset-related data to ensure that accurate, up-to-date information is always easily accessible. Accruent's solutions reduce costs, improve efficiency and increase data quality, enabling our customers to maximize profitability and demonstrate regulatory compliance by measurably reducing risk.
Accruent is an independent global organization which has built the largest share of successful customer deployments worldwide over the past 30 years. Our Professional Services team has unparalleled expertise within the field of Asset Lifecycle Information Management and our solutions contribute daily to the revenue of the largest global enterprises.
The company is headquartered in The Netherlands and has offices across the United States, Brazil, and Europe, as well as an international network of partners that ensures local service and support for our software solution Accruent Enterprise. Accruent is an official partner of Autodesk, IBM, Microsoft, SolidWorks, and Oracle.
Features
Optimize your document control processes with an intelligent engineering content management solution. The benefits for implementing an ECM solution on your EPCM or AEC projects include:
Increased collaboration and formalized distribution of engineering data
Efficient data management procedures
Master documentation revision tracking
Recording of information streams to clients, suppliers and distributed offices
Compliancy of government standards or regulatory guidelines
BlueCielo delivers industry-specific software solutions to companies specialized in a wide range of industries. These solutions ensure that the latest engineering information is always easily available and that asset performance is optimized. This allows Owner/Operators and Engineering Contractors to reduce costs, increase productivity, enhance operational excellence and ensure regulatory compliance
Meridian
Enrich your asset information platform with advanced capabilities and integrations with Meridian. Its extended capabilities can meet the specific needs of a wide range of highly regulated industries.
Entitle the right level of capabilities and organizational scale to best meet your asset information lifecycle needs with Meridian Cloud License Subscriptions.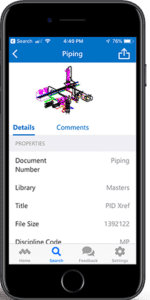 Maintenance Connection
Optimize your manufacturing performance through proactive maintenance with Accruent's CMMS software. Empower your workforce with asset intelligence and the ability to manage work orders, improve organization, and execute preventive maintenance.
Learn more about the CMMS that maintenance teams use worldwide to reduce downtime, predict asset failure and maintenance needs, and to manage the ever-growing complexities of enterprise assets and equipment inventory.