Why Work With Us
What We Do:
SolidCAD is Canada's largest Autodesk Platinum software reseller and professional services company. We specialize in software technology that supports multiple industries including Architecture, Engineering, Construction, Infrastructure, Manufacturing and Media & Entertainment. We are an Autodesk Authorized Training Center, employing the largest team of industry technology experts in Canada. We provide the highest level of service, expert support and customized offerings to help our customers identify and solve business issues to maximize the value of their investment in technology and to ensure customer satisfaction.
Growth Creates Opportunities:
SolidCAD is a rapidly growing company, acquiring several new companies per year. New acquisitions often mean new customers, new opportunities, new learnings and new challenges to solve. While always on the lookout for competent new hires, employees at SolidCAD enjoy the opportunity to learn and grow their career within the company, where many of our top performers rise up into managerial and senior roles.
Dynamic Work Environment Requires Dynamic Individuals:
At SolidCAD you will work in an environment of constant change. We are constantly looking at ways to improve our workflow and seek individuals who provide new ways of achieving this. Our roles provide individuals the ability to work independently and the room to do what they do best. We are looking for self-starters' that don't need to be micro-managed.
People:
Here at SolidCAD, we take pride in our employees and are always looking for great people to fulfill these new opportunities and join the SolidCAD family. We have many top performing employees with great ideas that help grow our business and make it successful. We provide a very harmonious workplace where employees enjoy coming to work and enjoy the people they work with and the challenges of our work environment.
We offer a competitive compensation package, uncapped commission structures, health and dental benefits, and more. With us, you will have unbeatable career potential in an industry-leading organization consistently expanding its horizons through ongoing acquisitions of businesses.
We are unique, innovative and always deliver to our customers, so it only stands to reason that we want unique, innovative and service-oriented individuals on our team.. If you identify with the opportunities and challenges of this role and want to discuss what you bring to the table, apply today and pursue excellence with us, your way.
We are proud to be an equal opportunity employer and of the broad diversity of our employees. All qualified applicants will receive equal consideration for employment regardless of race, ethnicity, religion, gender, gender identity or expression, sexual orientation, disability, or age.
Recruiter Profile:
Sanaz Shadbakht
I was similar to every other university graduate – what now?
I started my career as an HR Coordinator in London, United Kingdom. I have been fortunate enough to gain 4 years of international experience. It was during this time that I discovered my passion and desire for human resources. I am committed to providing candidates and employees the best experience in their recruitment and onboarding process. My practices and achievements have played a huge part in seeing the value in pursuing a thoughtful path to Human Resources.
Throughout my career, I have learned that HR plays a valuable role in helping organizations grow. It was this realization that drove my interest in this career path. I enjoy being able to find strong talent and to provide our employees an opportunity to invest in their work, be heard and valued for their individuality.
SolidCAD is an enjoyable place to work because of the people, fast paced environment and constant opportunities.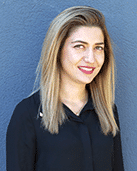 Check Out Our Other Companies