Civil 3D Double Click Customization
Is there a Civil 3D object that you would like to double click and run a specific command?  if so, read on.  (This works for AutoCAD commands too.)
Try double-clicking an Alignment.  The AutoCAD properties palette appears.  What if we want the Alignment Properties dialog instead?  Or if you want the Feature Line Quick Elevation Edit tool to be run when you double click a Feature Line.
Edits to the CUI file are required.  Please do yourself a favor and create a partial CUI file and make these edits in there.  And while you're at it, save this file somewhere like My Documents.
 Determine the object name.  Run the LIST command and select the object.  The object name will be shown.  Mine is AECC_ALIGNMENT.
Run the CUI command.  The double-click assignments are stored in the CUI file.
Right-click to add a new double-click action.  Name it something like Alignment Properties

5. On the right half of the CUI editor, enter the appropriate object name.

6. Find the appropriate command in the bottom-left window.  In this case, Alignment Properties.  Drag it onto your new double-click action.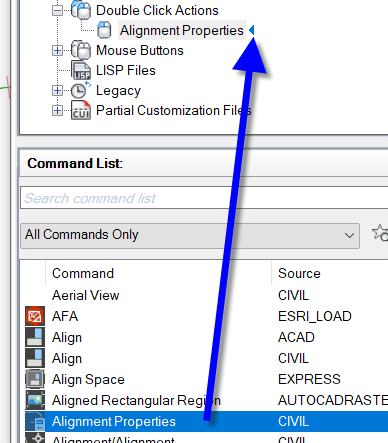 7. Close the CUI editor.
8. You're done!  Double click the object and the command will be run.
Related Posts
Autodesk Desktop Connector Update
Do you use BIM 360 and AutoCAD products?  Do you have the Autodesk Desktop Connector installed?  If so, there is a new update.  This may not be news to you as there are frequent updates, but this one is somewhat ...
Installing AutoCAD 2022 and Other Autodesk 2022 Applications
AutoCAD 2022 is here and it has a new installer.  Very few clicks are required, which is good and easy, but what if you need to customize your installation?  Read on… Installers can be customized by logging ...
AutoCAD 2022 is Here
It's springtime and the birds are singing.  Also, Autodesk has released the latest version of their flagship CAD package, AutoCAD 2022.  Click to peruse the Autodesk Documentation. Read on to see some notes ...